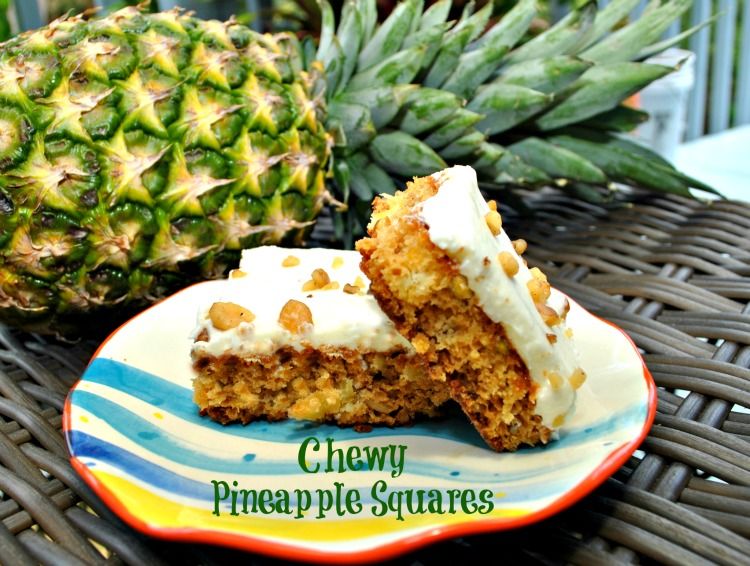 Simple to make and oh-so-delicious — chewy pineapple squares are the perfect summer dessert. My baker-bud, Carolyn, gave me this recipe. Her mother makes these squares, and she has raved about this particular treat on more than one occasion. After whipping these up, I can honestly say that they are amazing in every way. They are somewhere between cakey and chewy, and with the pineapple, nuttiness and the smooth cream cheese frosting — just plain addictive! This recipe yields a good amount, so it's great for a party or potluck.
Ingredients in Squares:
2 cups unbleached flour
2 cups sugar
1 teaspoon baking powder
1 teaspoon baking soda
14 oz crushed pineapple (in own juice)
1/2 cup walnuts finely chopped
2 eggs (beaten)
Ingredients in Frosting:
8 oz cream cheese
1/2 cup butter
2 cups confectioner's sugar
chopped walnuts (optional)
Directions for Squares:
Mix flour, sugar, baking powder, and baking soda together in large mixing bowl. Add eggs (beaten), pineapple, and walnuts to dry ingredients and mix by hand. Pour into a 14" x 11" x 2" pan (greased and floured), and bake at 350 degrees for about 30 minutes.
Directions for Frosting:
In an electric mixer, blend room temperature cream cheese and butter together. Mix in confectioners sugar. Spread on cool squares. Sprinkle additional walnuts on top if desired. Cut into squares and enjoy!