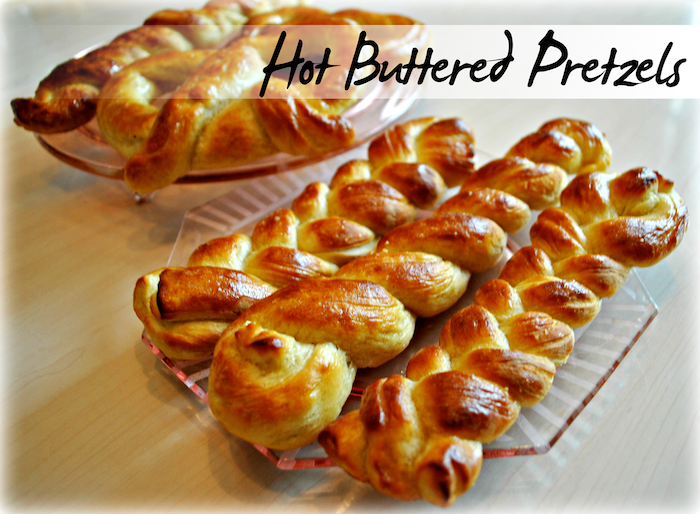 Soft, chewy, buttery, delicious pretzels: these are the real deal. They are incredibly easy to make, require very few ingredients, and are guaranteed to please. I originally found this recipe on the King Arthur Flour website and when I first made them, my husband announced they were the "best thing I ever made him". ( I should note that he recently retracted that statement when I made him Cherry Dabble Cake, but that post is for another day.) Like I said — very few ingredients are required and most of them you already have in your cupboards, but I will recommend that you try out King Arthur Unbleached Flour if you haven't already. I pretty much only use King Arthur in baking these days and can't guarantee the same results with another brand.
Ingredients:
2 & 1/2 cups King Arthur Unbleached Flour
2 & 1/4 tsp instant yeast (1 packet highly active)
1 tsp sugar
1 tsp salt
7/8 to 1 cup warm water*
2 tbsp baking soda
Pretzel salt, sea salt, or kosher salt
3 tbsp butter
*Use the greater amount of water in winter, lesser in the summer, and somewhere in between in spring and fall.
Note:
As you might guess by the note about the water, it is very important that you measure your ingredients exactly. When you measure the flour, it's a good rule of thumb to spoon it into the cup (rather than pouring) and then level it off with a straight edge.
Directions:
In a standing mixer, add all ingredients except baking soda, pretzel salt, and butter. Mix at low speed with dough hook until blended. Allow the mixer to knead the dough at medium speed for about 5 minutes. Remove the dough from the mixer and form into a ball (the dough should be soft and slack). Flour the ball well and place in large zip-lock bag. Allow to rest for about 45 minutes to an hour or until dough has doubled in size.

While the dough is resting, stir the baking soda into a cup of boiling water until dissolved then allow to rest and cool. Preheat your oven to 475. Remove the dough from the bag (it will stick if you haven't floured it well!) and place on greased surface. Cut the dough into 6 to 8 pieces (I like to use my pizza cutter — but be careful not to scratch your surface). Allow the cut pieces to rest for 5 minutes. Roll out the dough with your hands into long thing rope (around 30 inches long) and form into desired pretzel shape.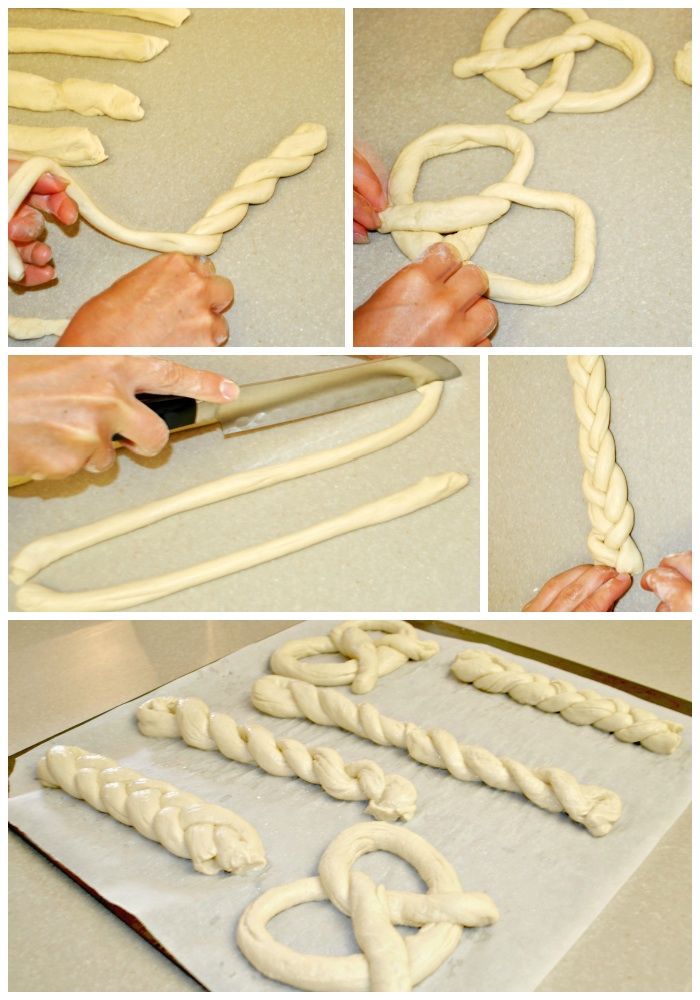 Try cutting your rope into two to make a spiral, or into three to make a braid!
Pour the baking soda into a square pan (8 or 9″) and place half of your pretzels into the water (bath). Swish the water over the tops of the pretzels (or spoon it) for about two minutes and then place pretzels (reshape) on a baking sheet covered in parchment paper. Repeat baking soda bath for remaining pretzels. Sprinkle salt on pretzels if desired and allow to rest for 10 minutes. Bake for 8-10 minutes in oven. While they are baking, melt the butter in a small dish. As soon as the pretzels come out of the oven, brush the tops with the melted butter until it is all used up.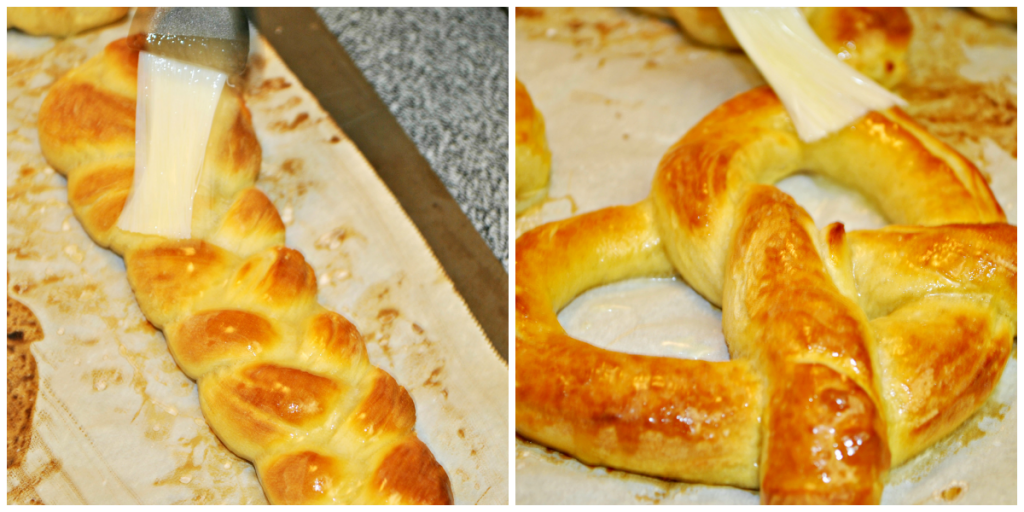 Eat them while they're hot!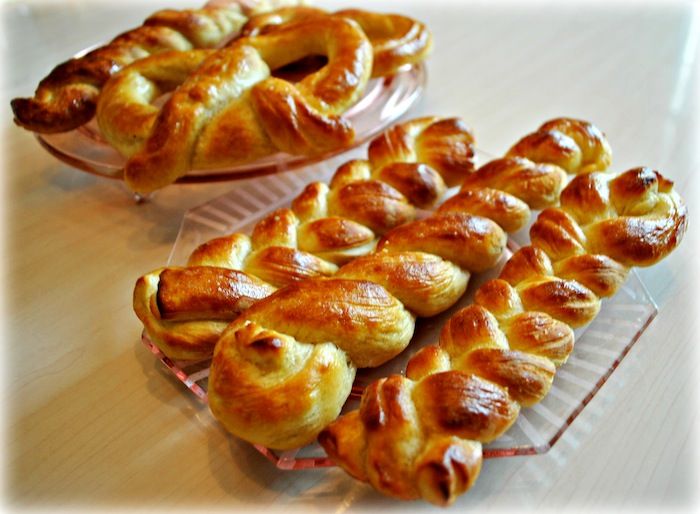 Note:
If you're not eating these all at once, I recommend freezing and reheating. Simply wrap each individual pretzel in plastic wrap (or in little baggies) and place in a large zippered freezer bag. To reheat — place pretzel on a piece of foil on a baking sheet and warm in the oven for about 5-7 minutes at 350 degrees.