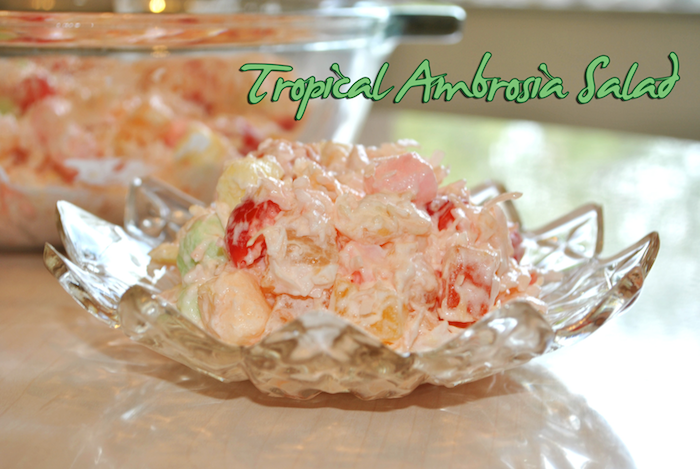 During my childhood, ambrosia salad was one of those dishes that popped up on a special occasion in the summertime. This colorful, sweet salad was always a welcome surprise with it's combination of fruit, coconut and (my favorite addition) marshmallows. Now that i'm living in the land of endless summers, I couldn't wait to whip up this dish. This is perfect for hot summer days as there's no turning on of the oven required, and (bonus!) it works both as a side dish and dessert. There are many different versions of ambrosia salad out there, most include mandarin oranges, fruit cocktail and some even use sour cream as a base. I created my own adaptation using tropical fruits such as papaya (red and yellow), pineapple, maraschino cherries, and cool whip as the base. I am very pleased with the outcome and I think you will be too.
Ingredients:
Tropical fruit salad (Del Monte) 15 oz
Maraschino cherries (about 20)
8 oz can crushed pineapple
1 & 1/2 cup sweetened shredded coconut
2 cups mini marshmallows (kraft flavored funmallows)
1 tub of cool whip (8 oz)
Directions:
Drain juice out of fruit salad and chop into bite sized pieces (I leave out — aka eat — a couple pieces of pineapple so it doesn't overpower). Remove cherries from juice and pat dry on paper towels. Cut each cherry in half and add to fruit salad. Drain can of crushed pineapple and mix with fruit. Stir in coconut and then marshmallows. Fold in cool whip (I use fat free but any kind will work).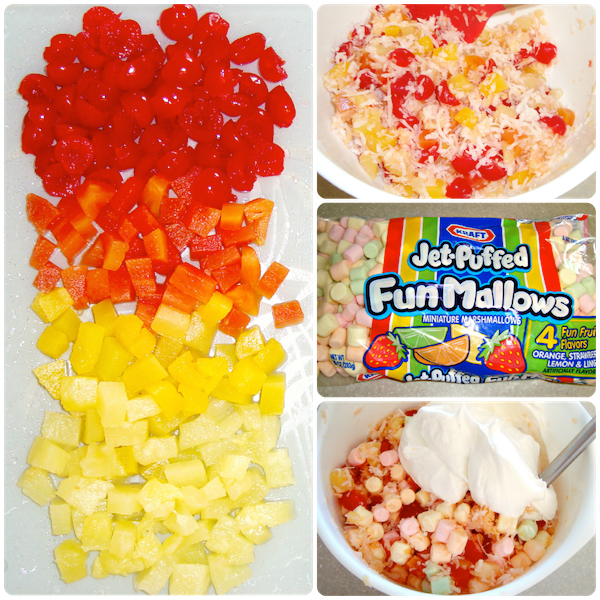 Refrigerate until ready to serve.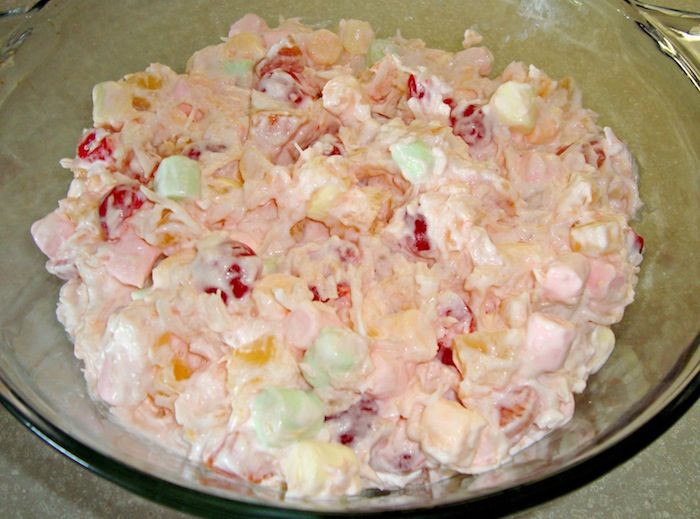 Note: It's best to let it sit for a couple of hours or overnight before serving so that the flavors have time to mix together. I like it best when the marshmallows absorb some of the cool whip and get all squishy and delicious :).